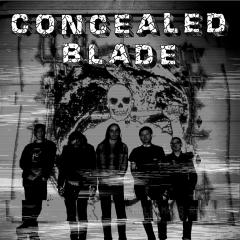 Super tuff hardcore from Pittsburgh, members of Blood Pressure. 
From the label website
All the way from the city of champions, CONCEALED BLADE follow up their massive 2015 demo with thirteen more tracks of the pummeling hardcore punk that those aligned with the Braddock Hit Factory have been churning out for many moons now; keeping the emphasis on quality over commonplace, riffs over a complete lack of riffs, and really just hardcore over horse shit. This 12" platter is evidence that THE BLADE still ain't for the weak and is just as precise and cutting in the execution of their songs as they've ever been. As a sage like man of wisdom probably once bellowed over a lukewarm bottle of Straubs and a half eaten pizza boat at the Rock Room, "YINZ WANTED DA BEST WELL YINZ GOT DA BEST!"