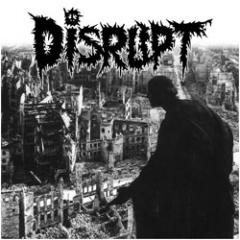 Disrupt were one of the foremost Crust bands of the 90's with a style similar to Extreme Noise Terror. This LP compiles the Disrupt tracks from the now quite rare split LP with Sauna and the not quite so rare split 7" with Warcollapse. Rampaging crusty hardcore from the glory days of the genre.
From the Unrest Records siote:
After nearly 15 years, seven unreleased Disrupt songs from the Sauna and Warcollapse session have now risen from the vault! Recorded in 1993 at The Lanes (Boston) and re-mastered in 2006 at Peerless Mastering (Boston), Unrest Records now brings you this self titled Disrupt masterpiece! These 7 blasts of hardcore will take you back in a time machine to the era when Disrupt were the kings of crust! This release comes in a nice gatefold with embossed and glossed cover. The record is on 180g vinyl with limited coloring wax available. Act now!!