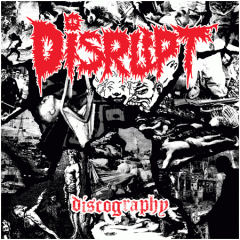 Printer-friendly version
After a litany of delays, the vastly anticipated official Disrupt "Discography" 4xLP licensed from Relapse Records contaminates the masses. Unlike the Disrupt "DEAD" Box Set CD on Relapse which contained bootlegs, demos and live recordings, the 4xLP vinyl version is comprised exclusively of all 80 studio songs recorded during Disrupt's resounding existence. All songs were digitally mastered from the original DAT reels in 2006 by Jeff Lipton (Peerless Mastering - Boston, USA) and subsequently remastered for vinyl in 2016 by the almighty Brad Boatright (Audiosiege Mastering - Portland, USA). This 4xLP tri-fold beast contains a 12pg. booklet (including artwork, lyrics & photos) and 2ft. x 2ft. poster, which all fuses into a milky clear, printed slipcase cover!! Limited to 1000, so act fast!!
contains s/t ep
split with Warcollapse
Unrest LP
Unrest CD bonus tracks
split with Deprived
split with Tuomiopaivan Lapset
split with Taste of Fear
split with Disdain
split with Resist
split with Destroy
comp tracks and one unreleased track.