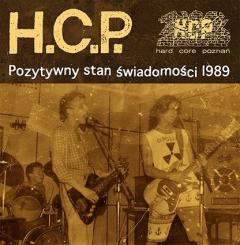 Printer-friendly version
Deluxe re issue of recorded material by this cult Polish HC band. One of the first fast DIY hardcore bands from behind the Iron Curtain to be heard in the world wide DIY punk scene thanks to the 7" on Resistance Productions. This LP compiles the 7", a split 7" and cassette material. With a booklet. Reminds me a bit of bands like L'arm and Pandemonium.
from the label site
H.C.P. stands for HARD CORE POZNAN, this band was active for a short time in the years 1988 - 1989 but they were very important for the growing D.I.Y. Hardcore scene in Poland of the Late Eighties. H.C.P. played fast and aggressive Hardcore, Punk (or Hardcore, Thrash as it was called back in those days), the lyrics were dealing with the dawn of the communist days in Poland, state violence, militarism, nuclear energy and growing neo-facism. After H.C.P. splitted up some of the members created the band APATIA.
This nineteen songs were taken from the split tape with APATIA (1989), the "Anti Drugs" 7" EP (1989) and another split tape with CHAOS (1989).
Includes a twenty-eight paged booklet including lyrics, an interview with all band members, memories of Pablo from RESISTENCE PRODUCTIONS, many photos and flyers.