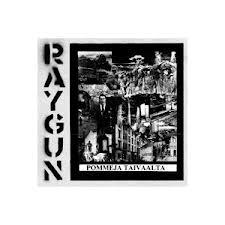 Raygun started in the early '80s and released one 3-song 7" in 1987 on Ikbal Records (from Läjä Äijälä / Terveet Kädet). One year ago was released a compilation LP with their songs recorded 1985-1995. Here's a new album presenting brand new songs as well as some unreleased old songs that were not on earlier compilation.
This record is only pressed 300 copies (as was their 1st hard-to-find 7" back in the days).
This LP has a good raw and direct Finnish hardcore sound, I was kind of afraid 2012 recordings would be too produced and metal sounding, but instead it's got that classic Finnish HC punk sound.