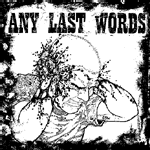 Printer-friendly version
OUT OF PRINT
St. Paul Minnesota the other half of the Twin Cities Hardcore scene has a long tradition of raw fast Hardcore from the days of Willful Neglect and Blind Approach. From those same St. Paul streets comes Any Last Words. High energy fast Hardcore which brings to mind recent bands like Lifes Halt and No Justice and the faster late 80's SE bands like early Youth of Today or No For an Answer. Any Last Words have a cult following in the upper midwest but are practically unknown beyond this region. This 7" should open up the eyes of thrash fans world wide to their awesome power. The songs on this 7" are the best from their demo and some new tracks all recorded by Tim Mac and produced with his trademark crunch. (Mac recorded Damage Deposit and Holding On as well) Critical Colin who did double duty in Damage Deposit provides some great artwork on the front and back cover. Lyrically Any Last Words are a sincere and thoughtful band with current political commentary while still being incredibly pissed off at everything. ALW takes on GW Bush and his war, emo, work, fashioncore and society and still finds time to contribute the uproarious song "I wish I could skate". Critical Twin Cities Hardcore! Any Last Words broke up some time ago, Colin went on to play in Formaldehyde Junkies and Safe Words.
Pressing Info:
First pressing, 2003: 100 clear vinyl metal cover TCHC edition, 500 green 2400 black
Track Listing:
This ain't posi core/I wish I could skate/Ten run rule/work, take shit, lather, rinse, repeat/Is it hot in here/I'd rather be fighting than crying/Hardcore prom queen/Why won't you die?