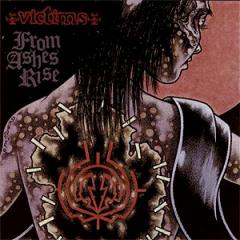 Printer-friendly version
I have been a fan of both of these bands since their first releases. When the opportunity arose to work with both of them at once I was eager to make it happen. From Ashes Rise plays dark, slightly metallic hardcore that is not unlike early His Hero Is Gone mixed with Scandinavian hardcore like Skitystem and 80's UK crust like Antisect. Drawing on those influences From Ashes Rise has moved this sound into it's own territory so to simply label it "Tennessee style" hardcore would be oversimplifying their sonic progression. From Ashes Rise recorded at Polymorph in the Bay Area and I can safely say this was the most expensive recording ever released on Havoc, but the Production is intense and flawless. From Ashes Rise previously released a 7" and 2 LPs on Partners in Crime and Feral Ward. They followed up the split with the Nightmares LP on Jade Tree/Havoc.  Victims from Sweden play aggressive fast Scandinavian hardcore not unlike early Skitsystem or Wolfbrigade. You can hear the influence of early Swedish hardcore like Anti-Cimex, Shitlickers and Crude SS mixed with the heavier sounds of 90's crust core, but there is also some influence from the early 80's US hardcore sound. This recording was produced by Mieszko at studio Soundlab. Victims have a 7", a split 7" and an LP on Yellow Dog/Deadalive and later released the Victims..In Blood LP/CD on Havoc. Cover artwork is an original piece from Pushead. From concept to completion this has been one of the most protracted and expensive projects ever undertaken by Havoc records. This release was greatly anticipated and was well worth the wait.
Pressing Info:
From Ashes Rise-so say the wise.../Moths to the flame/Uniforms/Mechanical/No Fears or Worries in a Post War Town/Transfer Victims-En Galen Drom/The Danger/Moments/Out of Reach/We Are Dead/End Up in Pain/Victims in Blood part 2/I Mansklighetens Toanst /Dromvarld/Tomorrow the End/Awake
Track Listing:
First Pressing, June 2003: 100 red vinyl with screen printed covers sold in special mail order edition, 500 green vinyl, 2400 black vinyl.First CD Pressing, June 2003: 3000. Second Pressing, August 2003: 2000 marbled.Second CD Pressing, 2005: 1000Third Presing, 2005: 2000 Black.Fourth Pressing, 2008: 1000 black.Fifth Pressing, 2010: 1000 black.