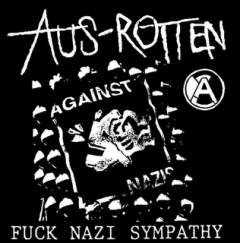 Printer-friendly version
After many years in print on Havoc, this title is now in print on Profane Existence, along with the rest of the Aus Rotten catalog. If you order now, we are stocking the most recent Profane Exisence pressing.
Havoc Records best selling record to date with over 20,000 copies pressed. Aus Rotten was one of the best punk bands or the 90's for two reasons. 1. They play excellent hardcore punk in the tradition of Discharge, the Varukers and Chaos UK. 2. They make the connection between punk and radical politics in a clear and understandable way. That is to say, Aus Rotten's politics are right up front, but phrased in an accessible fashion rather than obtuse intellectualisms or a PC sermon. Aus Rotten's popularity brings to mind the days of Discharge, Conflict and the Subhumans when political punk bands were just as well known and liked as commercial bands. Fuck Nazi Sympathy is a challenge to the punk scene not to tolerate Nazis and Fascism in the scene. Tuesday, May 18, 1993 is a stark indictment of the genocide in Bosnia showing how little humanity has learned from the horrors of the Holocaust. Aus Rotten also released the Anti-Imperialist 7" which has recently been repressed as well as a split 7" with Naked Aggression. A full length LP on Tribal War followed in 1996. The LP features a fold out poster sleeve, extensive information and a copy of Rotten Propaganda, singer Dave's anarchist newspaper. Once again this sort of packaging and creative attempt to expose the listener to a different political view brings to mind the days of Crass, Discharge, and Conflict. Aus Rotten has toured Europe, Japan and the United States. Aus Rotten released "The Rotten Agenda" LP on their own Rotten Propaganda label in 2001. Aus Rotten broke up in 2001. Singer Dave  went on to Behind Enemy Lines while Corey and Eric were in Caustic Christ and later Kim Phuc and Ratface. Rich who played drums on this 7" was in All Systems Fail.
Pressing Info:
First press, 1993: 1,900 black, 100 clear, second press 2,000 black, third press 2,000 black, fourth pressing 2,000 on blue, center label art changes, fifth pressing 2,000 on gold, sixth pressing 2,000 mixed vinyl, seventh pressing 2,000 black, eighth pressing 2,000 black vinyl, ninth 2,000 black vinyl, Tenth (actually I think this is the eleventh press, bringing it to 22,000 copies pressed, and I lost the receipts for a pressing somewhere along the line). 12th press 600 black vinyl. 13th pressing, 2005, 2000 black vinyl. 14th pressing, 2007, 2000 black vinyl. 15th Press, 2012 1000 black vinyl.
Track Listing:
Tuesday, May 18, 1993/ Vietnam is Back '94  Fuck Nazi Sympathy/ AIDS/ Do You Know Where Their Children Are?