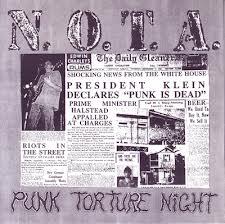 Printer-friendly version
Out of print since 2008, found  a few copies on Red Vinyl!
Anyone who knows me is aware that I don't really care for split records (despite the fact Destroy was on two) but this split was sort of a natural. Tulsa Oklahoma has produced two excellent hardcore punk bands in the last 20 years and here they are on one record. None of the Above were one of my favorite bands in the 80's powerful hardcore that was very catchy and lyrics any working class punk kid could relate to first hand. The songs here show a more matured NOTA who have mellowed somewhat but still are very catchy. NOTA put out an LP on Rabid Cat around '84 that is a hardcore classic. There was also the Moscow 7" and Toy Soldiers 7" from the same time period. NOTA's reunion period saw the release of this 7" as well as the HellHole EP and Give 'Em Enough Dope CD,  which includes a killer live set. lso re issued the Live at the Crystal Pistol cassette on vinyl NOTA have since broken up again. It's most unfortunate the the 1985 LP and both original 7"s are still out of print due to contractual reasons. NOTA is one of the very best bands of the 80's and I will put cash money on the table any day to re issue these classic gems. Until then, dub or download the 1985 LP if you can, crucial!
Brother Inferior caught my attention with their Blasphemy and Treason and Bound and Gagged EP's both on their own Sensual Underground Ministries label. Brother Inferior play hardcore punk which is powerful and melodic reminding me of old Youth Brigade and other classic Cali bands of the early 80's. I hate to categorize them though because their sound is their own and you can hear the thrash and street punk influences present in their music as well. Brother Inferior released their own LP on Sensual Underground and it has sold very well. Brother Inferior toured Europe in 1999 and released a tour 7" as well as a split 7" with Whorehouse of Representatives and the outstanding "Six More Reasons" 7". Brother Inferior broke up in 2000. Chad sang and and played guitar in Assembly of God and the Leveling.
This record went out of print in 2008.
Pressing Info:
First Pressing, 1997: 2,500 Mixed Vinyl, 500 Red, Second pressing 2,000 on Mixed vinyl
Track Listing:
B.I. Side:Who Will Protect Us? Freedoms' Sons
NOTA Side: Punk Torture Night/ Nazi Skinhead (Buy Your Own Beer)