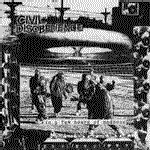 Printer-friendly version
Civil Disobedience formed in Michigan around 1992. Their demo tape sold several hundred copies through Profane Existence mail order. I saw Civil Disobedience when they opened for Destroy in Detroit and was so impressed I asked them if they would release a record on my new label. The 7" which resulted is arguably Civil Disobedience's best material. Powerful hardcore with speed and power but not exactly thrash. The two vocalists switch back and forth rapid fire. I would compare this to Conflict around Ungovernable Force but really its totally unique. This has been one of our most consistent selling releases even though it has been out for over ten years now. A lot of people tell me it is their favorite record of the 90's or even favorite record ever. 
Civil D. later put out an LP on Profane Existence with a slightly different line up. Civil Disobedience broke up in early 1998.
Pressing Info:
First pressing, 1993: 1,000 on black, second pressing 1000 on black, third pressing 1,900 on black 100 on green, fourth pressing 2,000 on gold, fifth pressing 2000 on red, sixth presssing 2,000 on marbled, seventh pressing 2,000 on black.
Track Listing:
Side Spinach: Planet of the Fakes/ Faith not Sight 
Side Virtual: Manufactured Citizens/ the Unavoidable Process.