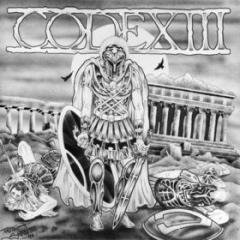 Printer-friendly version
Coming hot on the heels of the Doomed Society EP They Made a Wasteland is sort of a State of the Scene Address from the hardcore underground. A breathless report from the front as hardcore experienced a massive explosion of popularity and renewed interest as well as an assault of commercialism and regressive attitudes. Larger political issues to a back seat to confronting poseurs, sell-outs and religious extremists trying to corrupt the true spirit of hardcore. The line-up is the same as the first 7" although we had two different second guitar players around this time neither stuck with us. Musically very similar to the first 7" fast paced straight ahead hardcore with a variety of influences. Hardcore for the Kids and Shady Acres are downright melodic in the old California 80's style while Armed to the Teeth is total grindcore and the rest are punk thrashers.
Pressing Info:
First pressing, 1995: 2,500 Green, 500 Clear
Second Pressing 2,000 Marbled
Third Pressing 2,000 Marbled,
Fourth Pressing 2,000 Black.
Track Listing:
A:Hardcore for the Kids/ Stay True/ In for the Duration/ Shady Acres/ This Means War B: Send More Cops/ Birth of Retribution/ Armed to the Teeth/ In Your Head/ Club Scene/ Why We Fight/ No Exit