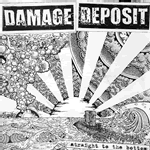 Printer-friendly version
Second ep from these Twin Cities new Hardcore insurgents. 8 tracks of positively charged aggressive Hardcore thrash. Musically similar to bands like Tear It Up, No Time Left, Infest, or Shark Attack. Lyrics deal with political corruption, all ages shows, dancefloor injustice, and the erosion of the rights of the individual in the face of corporate globalization. Features extremely sick artwork by Critical Colin and Bill Hauser.
Damage Deposit toured in the summer of 2004, played farwell shows in Winnipeg and Minneapolis and split up. Critical Colin played drums in Formaldehyde Junkies, and Ben Crew went on to form In Defence.   
Pressing Info:
First press, 2004: 2400 black, 100 clear with metal covers (sold at Midwest Hardcore Fest II), 500 gray marbled vinyl. 300 of the gray marbled vinyl have a rice paper obi strip which says "Damage Deposit, Straight to the Bottom" in Japanese. These were sold at gigs by the band. The other 200 gray went out mail order.
Track Listing:
21+=0/ Make the Skynyrd Stop/ Rager X/ Get Outta Town// Government and Big Business are out to Screw the Little Guy/ 4 Million Puppies/ Floorpunched in the Nuts, Ninjas Strike Back/ Flesh Traffic