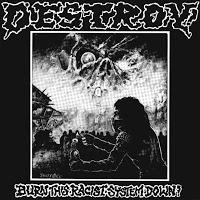 Printer-friendly version
Destroy was a political grind/crust hardcore band from Minneapolis. Formed in 1988 and continuing through several line-up changes until 1994. Releases include a demo in 1989. Total Fucking Chaos 7" on Relapse in 1991. Split 7" with Disrupt on Reduced to Slavery Records 1991. Burn this Racist System Down 7" 1992. Necropolis LP on Sound Pollution in 1994. Split 7" with Disturb on MCR records 1994. The full story of Destroy is told on the liner notes of the Necropolis LP. Destroy was contemporaneous with bands like Disrupt, Extreme Noise Terror, Napalm Death and Doom. Fast political hardcore with grind and metal influences. In my opinion this 7" was our best work. Destroy lived the Chaos when it really meant something. The Destroy material was all compiled onto the CD version of the Necropolis LP on Sound Pollution. In 2002 this was re released on Havoc as the Destroy Discography CD and contains all the recorded Destroy material with the exception of the 1989 demo. After Destroy broke up Mitch later played drums in the Murderers and Code 13. Felix sang in Code 13 and Damage Deposit. Nate played guitar in Brainiol, Stormcrow and bass in Nigel Pepper Cock. Mark W. played in Disembodied, Look Back and Laugh and No Statik. This was the first vinyl release on Havoc records, over 20 years ago now. 
Pressing Info:
First Pressing, 1992: 2,000 black vinyl, there was a photocopied "record release show" cover for a handful of these. 
Second Pressing 2,000 black vinyl
Third Pressing 1,700 black vinyl 300 white vinyl
Fourth Pressing 2,000 marbled vinyl,
Fifth Pressing 2,000 red vinyl,
Sixth Pressing 2,000 black.
(Cover is now two sided, eliminating the need for an insert) Earlier pressings had lyric sheets with blurry photos. Later have no photos. Some later pressings say "Destroy" in Japanese on back cover.
Track Listing:
A: Banality of Evil/ Get Used to It/ Gynocide/ Ode to Ramen/ Burn this Racist System Down/ Atomic Myopia/ Anthem/Ad Nauseum/F.Y.I.P.  B: Crowd Control? Enforced Orthodoxy/ Prey in School/ Lethal Habits.