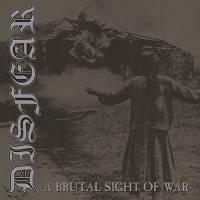 Printer-friendly version
Third in the Disfear re issue series. A Brutal Sight of War captures the raw early days of Disfear. Originally released in 1993 it is a perfect reflection of the Swedish hardcore sounds of those days. Raw down tuned D beat hardcore with a heavy influence from Anti Cimex and Discharge. But with many of the Swedish bands of this era, there is a bit of influence from Swedish  Death Metal, notably Entombed lurking beneath the gritty and raw surface. And we should not be surprised as it was recorded at Sunlight Studios when that name was associated with only the finest in Swedish Death Metal and Hardcore.
First 50 copies on red vinyl for mail order.
Pressing Info:
Pressing split between Havoc (USA) and La Familia (Europe) 1000 black vinyl 200 Red Vinyl.
Track Listing:
A1 A Brutal Sight Of War
A2 Judgement Day
A3 Forced To Conform
A4 No Hope Of Survival
B1 Religion
B2 Min Elegi
B3 Undergång
B4 Vietnam Idag
B5 Det Sista Kriget