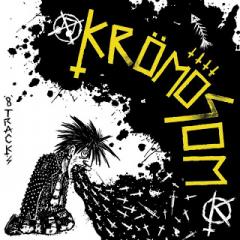 Printer-friendly version
OUT OF PRINT
Rampaging hardcore noize from these Australian fanatics. This band takes the Disorder/Confuse style of hardcore and cranks up the distortion in the style made famous by bands like Gloom and Disclose. Has the same hard charging power and wall of raw noise of bands like D Clone, Perdition and Nerveskade but with a solid and powerful hardcore punk backbone that recalls the masters of Scandinavian hardcore from years past. Some bands attempting this style start to fall apart and just sound like a barrage of senseless noise. Kromosom holds it down with solid and punishing songs directing, yes, channeling the energy of the noise and distortion in crushing riffs instead of pure white noise.  
Pressing Info:
Out of Print
First pressing, June 2011. 800 black vinyl, 200 pink vinyl.
Second pressing: 100 orange vinyl, 400 black vinyl
Third Pressing, July 2013, 554 white vinyl.
Track Listing:
Systematic Death/ Living Dead/ Live Forever/ Hysteria// Swine Control/ Wasted Life/ Force-Fed Lies/ Sentenced to Life