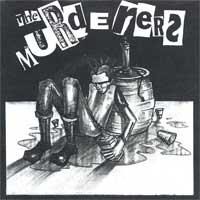 Printer-friendly version
Totally chaotic Punk/HC in the Disorder, Bad Posture tradition. At the heart of the Murderers is the legendary Bob Murderer who has kept versions of this band going since the early 80's. One incarnation backed GG Allin for a while. Bob also played in the Vampire Lesbos and many other bands in the 80's. Moving to Minnesota Bob got a new line up together and recorded these songs, some new, some from the mid 80's. Totally irreverent drunk drugged chaos punk with a ton of energy and power. This 7" is a blast of pure chaos. The Murderers lineup changed several times. Sid From Misery took over on drums when Mitch Useless left to play in Servitude and later Code 13. The Murderers sound changed somewhat later on. Their subsequent recordings sounded more like the US Bombs or Sex Pistols. But this 7" is pure, hate filled hardcore punk. The Murderers released a split 12" picture disk with the Jerkoffs on Beer City in 1999. They played a final show and broke up in 2000.
This record went out of print in 2008.
Pressing Info:
First Pressing, 1996: 500 Marbled 2500 White, Second Pressing 2000 Red Vinyl. Poster Sleeve is unsuitable for framing.
Track Listing:
This Side:No More Rules/ We Won't/ In With the Fuckers/ TV Religion/ Human Racist
That side: Bloodbath/ Their World Will Fall/ Days Ahead.