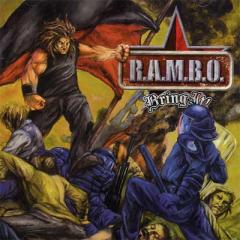 Printer-friendly version
RAMBO's "sophmore effort" is a titanic bulldozer of hardcore moshstrocity. Combining the power of epic swedish hardcore like Wolfbrigade and Disfear, the sick mosh of Hatebreed and Madball, with the politics of Crass. RAMBO take on apathy, the system, religion, intolerance and bad dance styles in nineteen tracks. Masterful production and over the top artwork.  CD and LP come with a bonus full length DVD with show highlights, tour diary, and instructional presentations.
Pressing Info:
First Pressing: March, 2005. 2400 black vinyl, 100 purple vinyl with Plexiglass covers, 500 red vinyl.
3,000 CD/DVD Second Pressing, July 2006, 1,000 black vinyl.
Track Listing:
The War on Self Esteem/ Kids Who Mosh Like Assholes Must Make for Selfish Lovers/ If Our Leaders are Impotent Only the People Can Rise/ WWWJD? (I doubt vote for Bush)/ Pigshit/ Unhindered by Hope/ Goose Music/ Atkins' America/ Rarity Unto Death// Bring it!/ Godless Freedom Fighters/ Beatdown Collective/ The Curse of Philadelphia/ That Lump in your Throat/ Do It Yourself or Do it With Your Friends/ Roll Over and Die/ Sophmore Effort/ Goodbye.