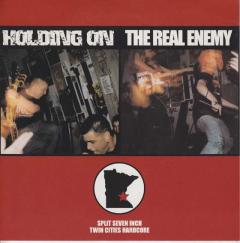 Printer-friendly version
This was a split release with One Percent Records, another Minneapolis label. The Real Enemy play fast paced political Straight Edge Hardcore. Holding On are more of an upbeat Youth Crew Hardcore band. Clearly this is something a little different for Havoc Records but I enjoy these bands' music and think what they have to say is important. I'm doing my part to keep the spirit of unity alive in the hardcore scene today and show that Straight Edge isn't all about jocks and bad metal. The Real Enemy also has a 7" out on Underestimated Records of Chicago and Holding On has had their demo released as a 7". Holding On's sound evolved since this record into a much tougher hardcore sound. Their LP "Just Another Day" was released on Havoc/THD/1% records in summer of 2001. Holding On later released the Question What You Live for LP on Bridge 9 records. Holding On split up in 2003. Karl and Andy from Holding On went on to Martyr AD.
This Record sold out in 2004.
Pressing Info:
First Pressing, 1999: 50 Gold, 500 Blue, 2500 Black, 25 Test Pressings with novelty covers.
second pressing, 2000: 1000 clear vinyl
Track Listing:
The Real Enemy Side:Dollar a Day Man/ 2000 Ways to Say Fuck You/ Tools of the Trade/ Better Than Youth Crew
Holding On Side:A Simple Plan/ Leave the Kids Alone/ Unite Already