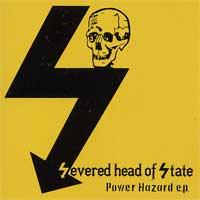 Printer-friendly version
Severed Head of State return with nine punishing new tracks. Hard driving riffs and angry vocals give this release a real fist pumping intensity. A lot of the songs are more mid tempo in the tradition of mid period Poison Idea and other hardcore punk bands that took some cues from Motorhead. Severed Head of State have been going for ten years now, but are a band with no geographic center and with all members playing in other bands. Guitarist Todd Burdette (Tragdy, His Hero Is Gone, Warcry) delivers some really searing guitar riffs on this LP and the guitar tone is perfect for the style, biting and corrosive like battery acid. Jack Control (World Burns to Death) has always impressed me with his raw and angry vocals and well thought out lyrics. A lot of bands write about the horror of war and man's inhumanity to man just because it's what fits the music. When I read Jack's lyrics I see that he's looking beyond the black and white pictures of war victims in the history books. The atrocities are not the result of one criminal act, but of the recurring process of unrestrained power and authority run amok. The bleak lryics and their focus on oppression and atrocity are a searing reminder that there is much to be done and things will probably get worse before they get any better. I've always though bassist Kelly Halliburton (Masskontroll, Defiance, Clusterbombunit, Resist) had some of the best style in hardcore dropping in some of his crucial Discharoge style "walking" bass fills. Drummer Chris Pfeffer (Signal Lost, Storm the Tower, Scorched Earth Policy) holds it all together with some sick and precise beats.  The CD version of this release also contains the Charge Ahead and Fucking Butchery 7"s as bonus tracks.
Pressing Info:
First Press, April 2007: 1600 black, 400 yellow. First CD press, April 2007: 2000
Track Listing:
Death's Marionette/A frigid Chill, Not of Winter/ A future like a guillotine/ Adversity/ Corpse of Hope/ Thrown into the seas of fire/ Sacrement of the sick/ This final scene...