Printer-friendly version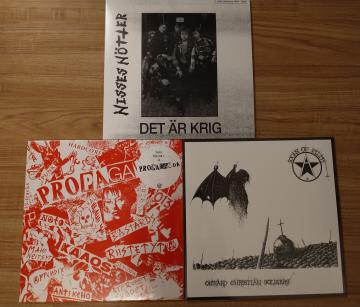 A few new additions to the webstore today. 
Icons of Filth "Onward Christian Soldiers" re issue. I bought this LP new when it came out after hearing the band on Welcome to 1984.   Then and now I was deeply impressed by the raw power and intensity of this record. Although the lyrics and stance come from the Anarcho Punk scene, the music is blistering hardcore. This record is just about perfect for me. The crushing guitar tone, sincere political lyrics, much copied artwork and calligraphy (the original spiney lettering) really make it a monument in the genre. 
Russia Bombs Finland This is the classic Finnish hardcore compilation, with Terveet Kadet, Kaaos, Riistetyt, Bastards, 013, Maho Neitsyt, Sekunda, Dachau, and Antikeho. 
Nisses Notter "Det Ar Krig" Great Swedish hc/punk. Compiles two demos from 1983 and 1985. Side one is a demo recorded when they were 13, just raw energetic punk, side 2 is more in line with other Swedish hardcore bands of the time such as Avskum. 
I have copies of Dropdead "2020" and Crucifix "Dehumanization" on the way.