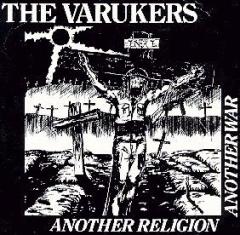 Printer-friendly version
Another one of my favorite records of the 80's re issued on my own label. As a die hard fan and collector, it is such a thrill to be able to re press release like this and see my label logo at the bottom. I bought this record when it came out in 1984 (I was 15) and I have been crazy about it ever since. Varukers and Discharge were the two most raging and intense of the  UK bands to ratchet punk up to hardcore speed and power in the early 80's. This LP sees Varukers delivering top notch hardcore punk, the guitar tone and riffage are savage, the vocals raw and powerful. The guitar has a bit of the metallic crunch that would permeate hardcore in the future, but still remains grounded in punk. This Lp ranks with Discharge "Hear Nothing See Nothing Say Nothing" as an example of UK hardcore punk at it's very best.
Pressing Info:
First Press Aug 2012, 800 black vinyl, 200 red vinyl.
Track Listing:
Another Religion Another War, No Escape, Condemned to Death, The Last War, Who Pays, Neglected, Deadly Games, Seek Shelter in Hell.