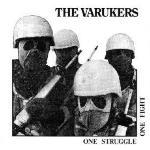 Printer-friendly version
Havoc rep ress of this long out of print Lp from 1985. Varukers were one of the best English bands of the 80s. Their early 80's material was a great mix of Discharge and slightly more punk bands like One Way System or the Partisans. This LP saw the Varukers heading into a much heavier more hardcore and metal influenced direction. This LP was very much in step with the tenor of the times coming out in 1985 it's hardcore punk meets metal sound put it on par with contemporary bands like Antisystem and Antisect. The Varukers broke up soon after this LP, only to reform in the 90's and are still going strong today. I bought this LP when it came out and it's been a personal favorite of mine for a long time, although I feel it's gone pretty over looked falling in between early 80's Uk hardcore and the rise of crust.
Pressing Info:
First Pressing, December 2010: 200 blue vinyl, 800 Black Vinyl.
Second Press, August 2011: 1000 Black vinyl.
Track Listing:
Persistant Resistance, We Hint at Things Nuclear, In South Africa, The Fear of mankind, Will They never learn (live), Killed By Mans own Hand, Animals and Animal, Protect Not Dissect, How Can your Conscience Allow This to Go On, Stop the Killing, Enter a New Phase (Live), A lesson We Must never Forget, One Struggle One Fight.