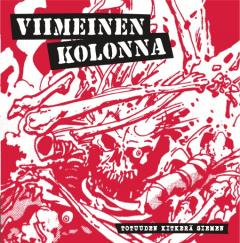 Printer-friendly version
Latest relase from this long running Finnish hardcore band. Gritty hardcore that draws on the early 80's Finnish hardcore legacy mixing in a bit of the bombastic Japanese hardcore influence. 
Split release between Havoc Records and Roku Records. Europe, please order from Roku (rokurecords.com)
There are 100 copies on  Red Vinyl split between Havoc and Roku, so the first 50 mail order customers will get Red Vinyl. I will post here when it's gone. 
Pressing Info:
First pressing, Dec 2012, 400 black vinyl, 100 red vinyl.
Track Listing:
Etsi Ja Tuhoa, Loputon Kulutusjuhla, Rajanvetaja, Pakko Menestya
7 Jeestusta/Ei Kukaan, Raha On Jumla, Totuuden Kitkera Siemen