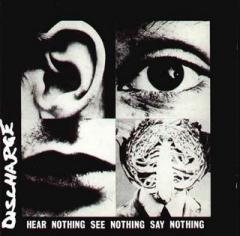 Printer-friendly version
Considered by many to be one of the best, if not THE BEST hardcore record of the 1980s. This record caught Discharge at the peak of their powers, combining the anger, intensity and power of their early material with a high caliber of production and musicianship. Pure anger and power, shocking and provocative graphics (before these were passe on punk record covers) combined with rampaging riffs and coarse vocals. Faithfully reproduced as a gatefold LP. This has been my favorite record since it was released and I'm very excited to re issue it on the Havoc Label.
Pressing Info:
First Pressing, December 2010, 200 clear vinyl, 1800 Black Vinyl.
Second Press, August 2011: 1000 black vinyl.
Third Press, 2013: 1000 black vinyl.
Fourth Press, 2015: 1000 black vinyl.