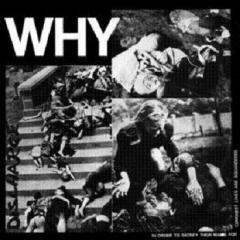 An unrelenting blast of raw punk anger. This genre defining record turned up the intensity of hardcore punk several notches. A searing protest against the insanity of war and madness of politicians set to the most powerful and bombastic hardcore assault laid down to that date
Pressing Info:
First Pressing, December 2010, 200 clear vinyl, 1800 Black Vinyl.
Second Press, August 2011: 1000 black vinyl.
Third Press, 2014: 1000 black vinyl.
Fourth Press, 2015: 1000 black vinyl
Track Listing:
A:Visions of War, A Look At Tomorrow, Why, Maimed and Slaughtered
B: Mania For Conquest, Ain't No Feeble Bastard, Is this to Be, Masscare of Innocence (Air Attack)