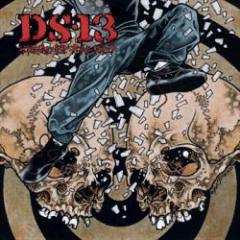 Printer-friendly version
The first full length release on Havoc! DS 13 was my favorite band during the Y2K thrash revival and I was stoked when they told me they would like for me to do their second LP. This LP was recorded at a top studio in Stockholm, has a full color cover and insert, comes on color vinyl and features original cover art by Pushead himself. DS 13's sound on this LP is similar to the last LP, the sound has progressed (regressed) into a more early 80's raw thrash sound. The guitars are less distorted and grindy sounding than the early releases. This gives the album a sort of raw intensity that allows the songwriting and energy to come out full force rather than behind a wall of distorted noise. I would compare DS 13 to early 80's HC bands like Minor Threat, Poison Idea and such, but I really feel they have a distinct hardcore sound all their own. In the years since it's release this LP has become something of a modern classic and remains one of our top sellers.
Pressing Info:
First Press, 2001: 500 Clear Vinyl, 2200 Green marbled vinyl, 300 Gold Vinyl (Thrash Fest edition for sale only at Thrash Fest 2, Sept 2nd 2001).
Second pressing: 2,000 black vinyl. Third pressing: 2,000 black vinyl.Fourth Pressing, March 2009: 500 black vinyl. Fifth Pressing, 2015: 500 black vinylFirst CD pressing: 3000. Second CD pressing: 2000.
Track Listing:
A:Lie/ Vi Skatar Dom Dor/ DIY Killed by the Kids/ In the name of revolution/ We're hardcore, you're not/ Bastard Bizkit/ Stold/ I Am the Bastard/ NATO Sucks/ Proletarian Song/ Watch Out B: Umea Hardcore/ Not My Fight/ Technology Crisis/ I Don't Trust You/ I Don't Need You/ Thrash Lifestyle/ I Don't wanna be a Skinhead/ Total War/ C.I.S.S./ What's the point?/ Media Blitz (Germs)