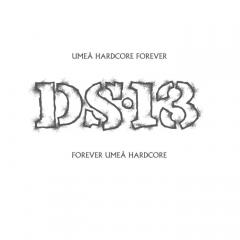 Printer-friendly version
DS 13, Spela Snabbare Records and Havoc Records presents the compiled works of DS 13 from their 7"s, splits and compilations. 67 tracks total in a nice gatefold sleeve just in time for the 20th anniversary of the first 7". Back in 1997 I was running a label and distro and I was trading records with this guy Pontus from Umea, who sent me a letter telling me I should check out DS 13. In those days not a lot of bands were playing fast hardcore. It was great to hear young guys raging fast with so much energy while rejecting emo, pop punk and everything else that was big at the time.  I ordered their 7", and right away I wrote to them and asked if I could press it in the USA and perhaps help them tour the USA. This lead to a long collaboration between Havoc Records and DS 13, over several tours and releases. It also introduced me to the small but prolific scene in Umea which led to releases and touring with other bands as well. Those tours and records twenty or so years ago were great times for hardcore, and I was happy to play a small part in it, and I'm thrilled to be a part of this retrospective.
Europe order from Spela Snabbare Records!
Track Listing:
A
Aborted teen generation 7", Busted Heads/Havoc, 1997
1. Get away
2. Fukk the cops
3. Mandatory protest song
4. Society scandal
5. Fukked up system (no rights)
6. Outstanding assholes
7. Degenerated generation
8. All things considered we're basically fukked
9. My revenge
10. Fukk your life
11. Eran profit, våran död
12. The ballad of Bob Flanagan
13. D.S.-13
Split7" w/STGM, Hepatit D, 1998
14. Down and out
15. I hate you
16. Larmrapport
17. Nuclear holocaust
18. Poison Idea
19. Per Gessle must die
B
Split7" w/Blood Of Others, Organic, 1998
1. Big head, small legs
2. Fukked up on glue
3. My life, my rules
4. Suiciety made us do it
5. Lady Die
6. I hate Silverchair
For the kids, not the business 7", Insect/Communichaos/Deranged, 1998
7. Make more noise
8. Fight back
9. MKP
10. Rikki Fake
11. Fukk your gods
12. Fascist cop
13. 54 words in 17 seconds
14. War is menstrual envy
15. Upperclass vegans vs. non-PC bums
16. Pavlov's dogs
17. Rippin' shit
18. DIY or die
19. New aryans
C
Thrash and burn 6", Enslaved/Boy Useless, 2000
1. Straights and drunks
2. Work sucks
3. Victory records
4. Pre-chewed rebellion
5. Destroy
6. World of hatred 
7. Youth crüe über alles
8. Fuck responsibility
9. David Sandström i Refused är en kukskalle
Split7" with Code 13, Havoc, 2000
10. Warenium 2000
11. I'm a cop
12. It's about time some kids started living up to their patches
13. Media two-face
14. We love you
15. Thrash and burn (skate straight)
16. World wide hardcore pride
D
Compilation tracks
1. (I'm not your) Steppin' stone
2. Religion = oppression
3. Snacka inte sexism med mig punkjävel
4. Work buy consume and die
5. Does it make a difference?
6. Jag hatar soldater
7. Reclaim the streets
8. Go home (Positive scene 2000)
9. The return of hardcore Jesus
10. Gammkängan
11. Definition (No means no)
12. Jag skiter i dig