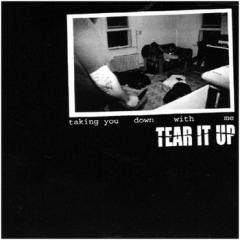 Printer-friendly version
Since forming out of the ashes of Dead Nation in 2000, Tear It Up has become a mainstay of the American DIY hardcore scene. Their aggressive fast hardcore sound and intense live performance won over legions of fans from the start. Tear It Up toured the US and Europe constantly, and when not on tour still played as many as 4 shows a week anywhere within a days drive of their native New Jersey. Tear It Up survived several line up changes most notably Paul went on to form Cut the Shit and John was drafted from Down in Flames. Tear It Up broke up shortly before this record was released. Therefore, consider this swan song to be the parting shot from a band captured at their peak. Let it be known that Tear It Up went out at the top and never put out a weak record or put or a lame half hearted show.  Matt went on to the Rites. Paul went on to Cut the Shit and was also In Sleeper Cell. Andy is in Forward to Death and A New Enemy.  Taking You Down with me was originally intended to be a 7", but the amount of material proved to be too long and the band decided to release it instead as a 45 RPM 12. These seven new songs combine the fast thrash that Dead Nation and early Tear It Up were known for with more hard rock/late Black Flag influenced heavy riffage on a few slower numbers. The result is absolutely crushing, like alternating between burst of high energy and a slow relentless pounding. The CD version of Taking You Down With Me contains the Tear It Up side of the split 7with Down in Flames and a most excellent live set recorded in Maryland. This live set is pretty much Tear It Ups greatest hits live with a stellar SSD cover.
Pressing Info:
First CD pressing, November 2003: 2000.
Track Listing:
  CD track list: Higher Standard/Everybody Hates Me/In Case You Didnt Notice, Im a martyr/One Down Me to Go/Taking You Down With Me/Heres Your Honesty/When Will It Stop/Down In Flames/License, Registration, and Insurance Please/Its Fucking Dead/That Life/Torn Apart/ plus a live set recorded in Maryland.