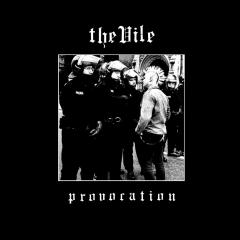 Printer-friendly version
The Vile is a new audio assault  which consists of Rat (varukers/discharge) on vocals Tezz (ex discharge/broken bones) on guitar along with Ben (ex Disorder) and Sean (Braindance) on Bass. The band was put together to incorporate elements of the members previous bands, but to kick up the aggressive attitude a notch with a more in your face UK punk sound. The Vile are irreverent, obnoxious raw two fingers in the air punk rock from some seasoned veterans of the UK scene. "Punk Disorder Chaos Destruction!"
Health Warning: any one of a nervous disposition steer clear of this release you have been warned
Pressing Info:
First press, March 2013: 500 black vinyl
Track Listing:
Terror in our Mind, Provocation, Dogs will Hunt, Busted Again, Disensitised to it all.