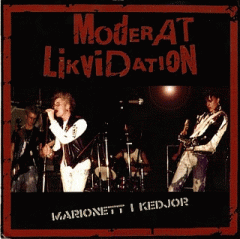 Printer-friendly version
Important notice: We screwed up the catalog numbers on the Moderat Likvidation 7"s-The tracks for NITAD wound up on Marionett I Kedjor and the Marionett I Kedjor tracks are on the Nitad ep. The songs and track order are correct, just that the center labels don't match the music. We think it would cause more confusion to switch the vinyl since the labels don't match, so if you order this EP you actually get the Nitad tracks. We assumed most people are ordering all three so if you like you can swap the vinyl yourself.
Originally recorded and released as a demo tape in 1983 these songs have been re mastered from the original tapes. More original 1983 raw Swedish hardcore punk from the original ragers. This was a lot of material to fit onto a 7", but still sounds quite good considering it's source.
Pressing Info:
First Pressing, September 2006: 1500 black vinyl, 500 red vinyl.
Limited edtion box set of 100
Track Listing:
Nitad/Branda Celler/ Tio Timmar/ Enola Gay/ Proggerebell/ White Rastas/ Hiroshima/ Marionett I Kedjor