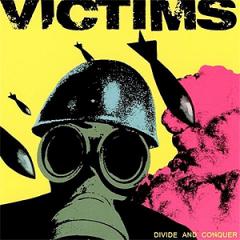 this record has been out of print for a few years, but we got a handful of stock copies returned from a distrubtor.
Third full length from Sweden's Victims. This is one of my favorite bands of recent years because they flawlessly mix my two favorite styles of music, Early 80's American Hadcore and Swedish Crust. This record rises to the challenge of mixing two such potent styles with great vigor. Really hot memorable riffs and smoking guitar work from Jon  Lindqvist (also of Accursed, Nasum, Saayadina etc) and Johan's vocals sound like he has been gargling with napalm.  This LP reminds me of a lot of the first wave of LPs from hardcore bands in the early 80s. In 81 you had this wave of great raw and fast 7"s from the new hardcore bands. By 84 most of these bands had developed their style and developed enough songs for a full length and had the experience to enter a quality studio and record a solid and memorable LP. Victims on this release have reached a point where skill and experience have culminated in one totally raging track after another, without changing their sound, selling out or crossing over.
Pressing Info:
April 2006: 2000 CDsFirst pressing, April 2006 1,500 black vinyl. 300 green vinyl with stenciled covers, sold on us tour.
Track Listing:
Another Way to Die/ Who the Fuck are We?/ Your Life is Red/ Lydanda Små Dockor/ Your Division/ The night-driving toll/ Another Mission/ Ruined/ Darkness Blinds You/ Captured/ Running For Escape/ You Make Me Fight/ Livlösa Kroppar/ Refuse to Feed the Machine/ Endless