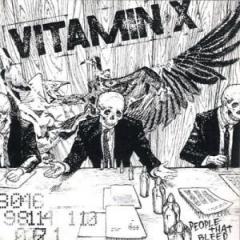 Printer-friendly version
found ONE copy on red vinyl
Vitamin X is a Straight Edge Hardcore band from Amsterdam Holland. Their earlier material is more in the Youth Crew tradition of Youth of Today, Bold and Chain of Strength. But over time Vitamin X's sound has progressed to a faster more intense sort of hardcore. This 7" is a really fast hardcore sound very similar to DS 13, Lifes Halt or Tear It Up. Vitamin X has very well thought out political lyrics which defy some of the wack stuff going on in SEHC today. Indeed bands like Vitamin X are re claiming SEHC for what it really is, a branch of hardcore punk rock and not some sort of mainstream metal music. Vitamin X also has two 7"s on Committment Records and an full length CD on Underestimated (SOA in Euorope). They followed up this recording with two full length LP/CDs on Havoc as well as a US tour 7" and several comp tracks.
Pressing Info:
First Press, 2000: 500 Red Vinyl, 2500 Black Vinyl, 100 Clear Vinyl, clear covers, available only at Chicago Fest 2001.
Second Press,Oct 2002: 2000 black vinyl.
Track Listing:
Side A:Pissed off/ Got a Reason/ Your War/ In My Head/ Ego Trip/People that Bleed
Side B:The Bigger the Better/ Too Close to Call/ No Comply/ Locked in Locked Out/ Stab/ Material Existence